Freedombridge is run by Kendal and Tatiana, based in Saltburn-by-the-Sea in the North East of England.
Through our workshops and 1-to-1 sessions we offer you the opportunity to release old, limiting patterns of thought and behaviour that no longer serve you and to connect more deeply with yourself, your loved ones and your life purpose. You are always in charge of your own growth and healing; we are here to serve your intentions in a loving and supportive way.
Exploring your sexuality in a safe space will enable you to re-awaken the sexual life force energy in your body as you also learn to re-focus it in a positive way. Releasing tension and anxiety in your mind and body can help you to return to your natural state as you increase the love for yourself and expand your awareness.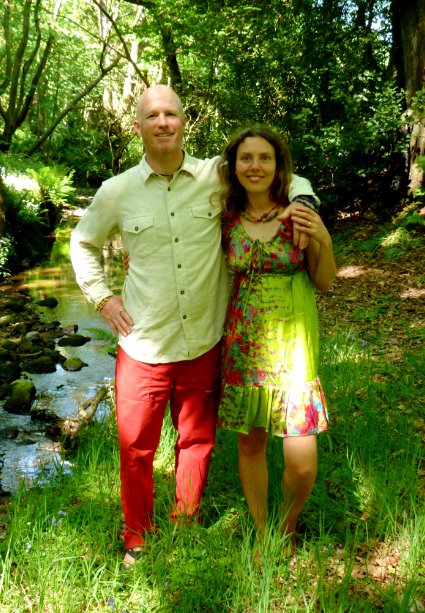 Kendal has a background in counselling, a field he entered over 20 years ago. His interest in human sexuality began around the same time after a friend gave him a copy of Mantak Chia's book, "The Multiorgasmic Man", which began his routine of a daily practice. This is the backbone to his wellbeing and his happy, energetic flow. In his personal practice, he has worked with clients from all walks of life, helping them to lead healthier, happier and more fulfilled lives. He started facilitating groups in 2002 and has since offered a wide range of workshops including mindfulness & meditation, positive thinking and lifestyle, the power of manifestation and dance. He started teaching Tantra in 2016 alongside Tatiana. He is committed to contributing to a healthier, happier and more sexually open society through his work. He has a relaxed and grounded presence.
Tatiana is a qualified psychosexual therapist, nutritionist and Tantric Journey therapist. She is interested in living a conscious and sustainable life that is supportive and nurturing to others. She became interested in alternative medicine and health practices in her early 20's, and has since found alignment to her deeper passion and life purpose, resigning from her oil industry job at 26 and fully following her beliefs and interests. Over the last 15 years, she has both learnt from others and taught herself meditation, healthy eating, positive thinking based in appreciation and respect for the sacredness of life. She does a daily practice and has been facilitating groups in meditation, nutrition and healthy living since 2012. She has studied and explored different schools of thought in Tantra, allowing Kendal and herself to combine their knowledge and experience in starting Freedombridge.
"You managed to create a beautiful and sacred space to be in. Thank you both" Graham
"You both ran the session beautifully together. The course flowed really well, big thank you to you both" Samantha